The Struggling Kings formed in 2013 when brothers Luke and Daniel Riches enrolled at Abmusic , Perth, however, their musical journey started at a young age. They learnt how to play guitar and sing in church as both parents had strong musical abilities. Having grown up in One Arm Point, West Kimberley, the boys were raised in a laid back environment that allowed for free artistic and musical expression. The unique energy and feel from the Kimberley seems to influence their work in an exotic way.

The boys were keen sportsmen and in 2005, older brother Luke was offered a basketball scholarship to a high school in Sanford, North Carolina, USA. And Daniel was soon to follow as the boys spent 3 three years living in America as teenagers. At their North Carolina school they were coerced into joining the youth choir, which further developed their abilities. Involvement with sport slowly faded, and music quickly became their passion. After enrolling at Abmusic they soon realised that pursuing music would become their new path. In 2017 their song 'Ardyaloon' was nominated for WAM Song of the Year. The band is working tremendously hard to elevate themselves to the next level in a competitive music scene.
Powered by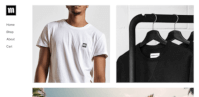 Create your own unique website with customizable templates.